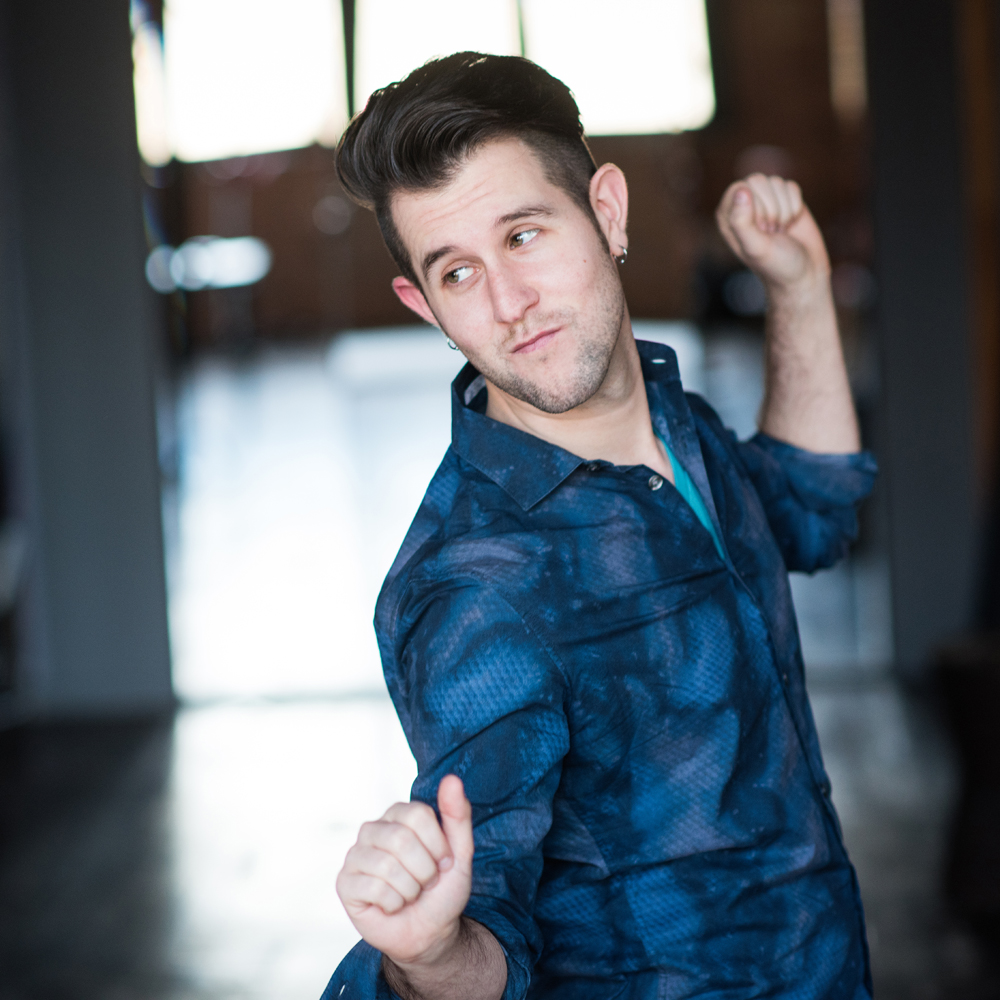 Don't take this the wrong way, but who are you?
So, my name's Thomas Aláan (pronounced uh-LAY-uhn). I'm a proud, but displaced, West Virginian, having moved to Dallas in 2005 and then Chicago in 2009. I'm a countertenor, which is an unfamiliar word for a lot of people. Basically, it means I sing reeeeally high like a woman - here's a Wikipedia link for the curious types. I sing mostly early music - stuff before 1800 - and 20th century/contemporary music. You'll probably never hear me sing Puccini or jazz standards from the early 20th century. ;) You can find out more about my musical side on my BBE profile page or at thomasalaan.com. Also, I love Starbucks, donuts, and cats.
What kind of music do you like?
I think some might be surprised to learn that my favorite music is EDM (electronic dance music), and I especially love vocal trance. Growing up, I romanticized late 90s rave culture (the dancing and fashion part, not the drug part). It's really an unfulfilled dream to do vocals with a DJ. I'm also a huge fan of Europop and Eurovision, and even went to the shows in 2014 (Denmark) and 2016 (Sweden). Because of my work with BBE, I've learned to appreciate folk music, especially from Scotland, and I've got an itch to learn more about Appalachian music.
Classical music is of course important to me, too. I love everything by Arvo Pärt. I sang his Stabat mater (for three strings and three voices) in 2015 with Bella Voce and director Andrew Lewis, and it is to this day probably the most profound piece I've ever performed. It's a cliche phrase, but the "silence was deafening" holds true here. The extremes in sounds and registration are absolutely heart wrenching if you consider the text is all about a mother who has lost her son. And, I'm still stunned by Henriët Fourie Thompson's opening high C. I also love Philip Glass, Gabrieli, Monteverdi, and Porpora.
What do you love most about performing?
I didn't really like performing solo until later in life - my passion has always been teaching - but I've grown to love singing chamber music (which is what we do in the BBE) and orchestral solo singing (for examples, singing the solos in Handel's Messiah, or the solo in Bernstein's Chichester Psalms). I think part of that "late blooming" was because I was not comfortable with myself growing up. (Who is?) I was always "different" in junior high and high school, and growing up in rural West Virginia made me a prime target for some harsh treatment. As you can imagine, it took a while to get over that shyness - and honestly, the fear of being taunted - and to be comfortable sharing the "real" me on stage. Now, I love performing because I take every chance to challenge myself to be as authentic as I can on stage. When performing, I'm always pushing to genuinely connect with myself, the music, and those around me.
What are you most excited about regarding this show?
Three things! First, while I am exclusively a countertenor, this will be the first time since I was in college that I'll be singing in my low voice, and the first time ever that I'll be singing in both the high and low voices on a concert. A lot of my colleagues will be shocked that, yes, I have a "man voice." Second, I love doing BBE shows because we make them very quirky. We're always asking, "Hey, how can we give a great show like Beyonce?" Well, I mean, that might never happen, but we can strive for it, right? Finally, the whole program is nothing but drinking songs and dance music. I've never done this kind of repertoire before, but I'm excited because the pressure is off to sound "beautiful," like I would in a more traditional classical music concert. Rather, the point of the program is to just have fun, and so I'm going to go for as many laughs and cheers from the audience as I can get.
Before this summer, did you know any Gaelic beavers?
No, and I was completely unaware that beavers claimed any sort of cultural heritage! However, I'm glad to have met BBEaver and to have learned more about what it means to be a Gaelic beaver. She mentioned she has cousins elsewhere around the world, and that we might be seeing more beavers around Chicago in the future. I'm all for it. BBEaver is great. She can throw back a beer like no one else I know.